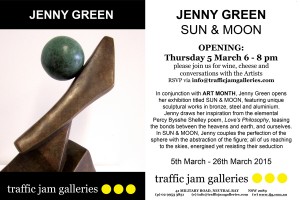 March 5-26, 2015, traffic jam galleries
'The sunlight clasps the earth … and the  moonbeams kiss the sea'  Shelley, Love's Philosophy
The sun and moon rule and inspire us; setting our days and our months, and insinuating themselves into our lives, and our loves.
The sun signals hope and life while the waxing and waning of the moon shows us change, creation and also destruction. Follow the sun as it moves across the horizon, feel the glory of the sunrise, the last bursts of the sunset, and the gentle and magical reflections of the moon.
In the great myths, the moon is mostly female, the queen of the night, the ruler of emotions and cycles of growth. The sun is often male, the god of light, fire and energy. Opposites, complementary, yin and yang.
My works in 'Sun and Moon' are abstract yet their origins are figurative. They play with shape, movement and colour to create a journey through space and time and to elicit our essence. Buddha said, "Three things cannot be long hidden: the sun, the moon and the truth".